Evening Post Wed April 11th 1973
Invicta International owners of the crashed air- craft, were taken over only two months European ago by Ferries, the powerful company operat- ing the Thoresen Town- send boats. Invicta, based at Manston, Kent were founded nine years ago as a cargo air- line but soon developed a passenger market and last year carried around 150,000 people. Most of their flights are from Manston, Kent and Luton, and until yesterday they had an unblemished record.
AIR CANADA Recently, however, they had run into difficulty in paying for their fleet of five Vanguards and were loo ing round for some backing. European Ferries gave it. No heads rolled in the process, and joint managing directors Hugh Kennard, a former R.A.F. Wing Commander, and C. W. Stephens are still in charge. Of the five Vanguards, two were on cargo business and three passenger. The one that crashed, GIAXOP, call sign Oscar Papa, used to belong to Air Canada. It had completed about 16,500 flying hours, which is half its estimated air frame life. It first flew in 1961 and was handed over to Air Canada by Vickers in 1962. In its six years' service with Air Canada it was equipped with radar to enable it to land in near- Arctic conditions in the North. Its log-book shows that it had had no trouble, and there is no indication that it was under- equipped to cope with Swiss weather.
INSURED In 1968 it was sold to the British firm Air Holdings as part of a bigger deal and was bought by Invicta in January 1972. It was given a certificate of airworthiness in December. Oscar Papa was insured on the London market for a hull value of £150,000.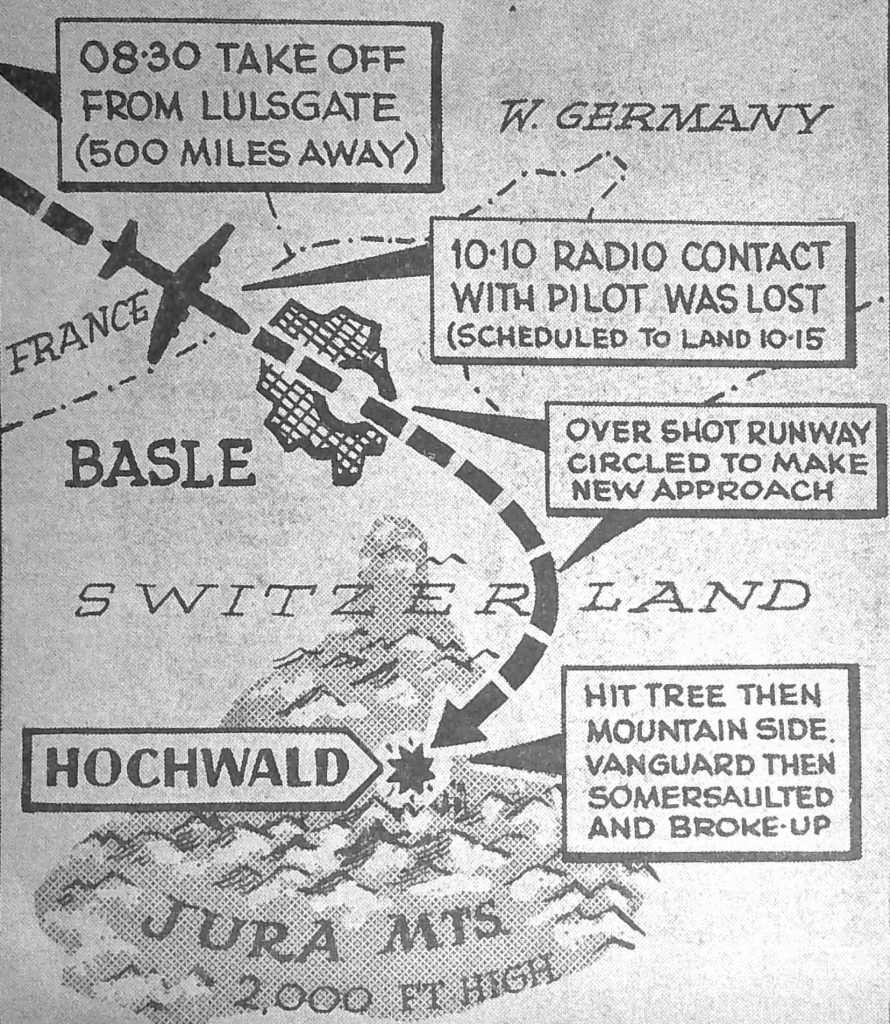 The passenger liability is not known but it is expected to be high. The Vickers Vanguard, built at Weybridge, was the heir to the highly successful Viscount. But whereas 444 Viscounts were sold, the turboprop Vanguard was overtaken by new jet aircraft and sold only 43. Production in 1962. stopped The Vanguard has four Rolls-Royce Tyne engines, a designed as power unit 1955. long ago as B.E.A. are still operating 14 of the 20 they bought, nine for cargo and five for passengers.
Air Canada, the other major buyer, have sold all theirs. The Vanguards have altogether clocked 890,000 miles. Two had crashed previously, both belonging to B.E.A.
FOG The first was in October 1965 when it tried to land at Heathrow in fog at night. Thirty passengers and six crew were killed. The second was in October 1971 in Belgium, following a pressurisation explosion due to some corrosion at the rear of the fuselage which had not been detected Here 55 passengers and five crew died. It is believed that crash investigators see no immediate connection between the earlier crashes and yesterday's tragedy.